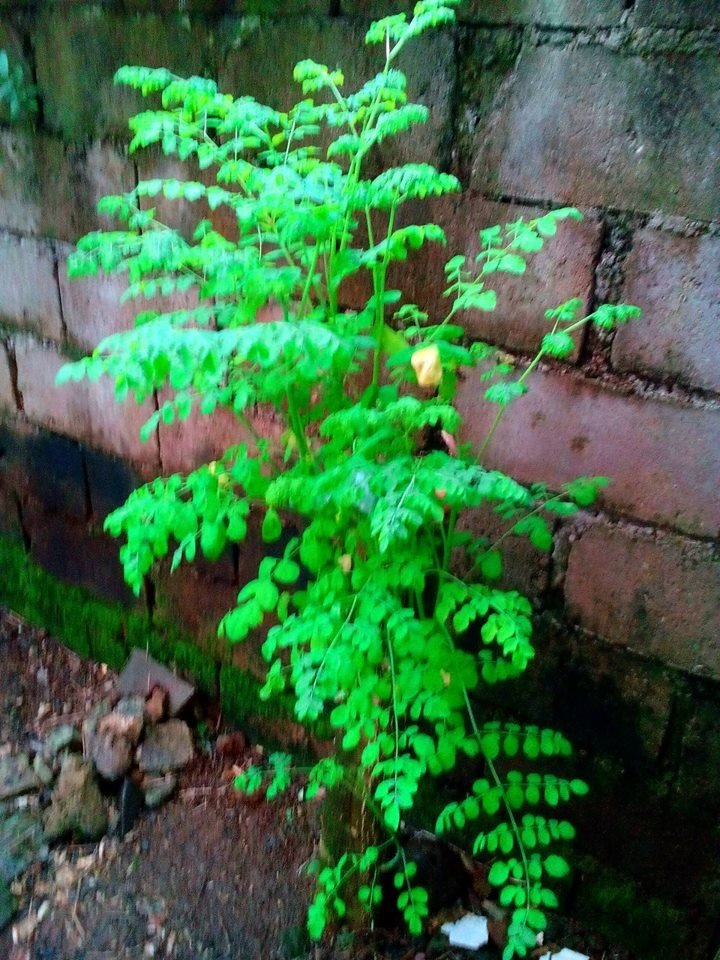 I ate malunggay – moringa every week when I was growing up in Tumaga, Zamboanga City, Philippines. In our 1.7 hectare land we grew different kinds of trees and vegetables. My mother loved to plant the malunggay tree. You can cut the malungay tree or its branches into several pieces, stick them in the ground and they grow. Malunggay trees love to grow.
My mother would use the big branch of the malunggay/moringa as a
strengthening post for our fence line. She would do this in our back property. I always wondered why she would do that. So I asked her one day, "Ma, por que ta siembra con el malunggay alli na corral?" "(Ma, why are you planting the malunggay by the fence?)". Her answer was simple.
"Para el maga con-hambre ladron ta busca gulay, no necesita mas brinca na corral." "(So the hungry thieves looking for vegetables, do not have to jump the fence)". The malunggay trees grew strong and provided us and the "outsiders" the veggies for "pescao seco" (Dried fish).
Growing up eating malunggay, I did not know the benefits or the nutrients of the leaves. I did not appreciate the tree. I would rather eat pechay, calabasa or frejoles than malunggay. Now I know that the combined nutrients of the pechay, calabasa and frejoles do not even come close to what malunggay has to offer.
Malunggay Moringa Oleifera: What www.lifeinhealth.org/moringa/ says:
Moringa Oleifera contains more than 92 nutrients and 46 types of antioxidants. Moringa is said to cure about three hundred diseases and almost have all the vitamins found in fruits and vegetables. Even in a larger proportions. With all the health benefits of this miracle herb, it can easily be termed as the most nutritious herb on Earth. There are no side-effects which also has tried, tested, documented and proved evidence to support the same. It can be consumed by small children and adults. Today, millions world over have started using Moringa based products in porridge, pastas, bread and to reap the everlasting health benefits of the extraordinary 'Moringa' herb.
Some Facts about Moringa- (Excerpt From The Book "Miracle Tree" by Author Monica G.Marcu,Pharm.D., PH.D.)
92 Nutrients

46 Antioxidants
36 Anti-Inflammatories
18 Amino Acids, 9 Essential Amino Acids
Promotes Healthy Circulation
Supports Normal Glucose Levels
Natural Anti-Aging Benefits
Provides Anti-Inflammatory Support
Promotes Healthy Digestion
Promotes Heightened Mental Clarity
Boosts Energy Without Caffeine
Encourages Balanced Metabolism
Promotes Softer Skin
Provides Relief From Acne
Supports Normal Hormone Levels
Rare for a plant source -Moringa leaves contain all the essential amino acids to build strong healthy bodies.
---
How to get the best out of the super food Malunggay or Moringa:

 Briefly drop the leaves in boiling water then remove.

Squeeze the juice out of the leaves into whatever you are cooking. Makes the nutrients go into your small intestines faster for absorption into your system.

Add the squeezed leaves into the stuff that you are cooking. This makes it easier for the stomach to digest.
>>> FOR FUTURE USE:

Dry the harvested leaves. When dried, crush them.

 Put the crushed leaves into a pepper shaker.

 Use whenever you eat or cook. Just shake it on.
If you have a Malunggay (Moringa) tree don't let the leaves fall from the tree. Pick them and dry them for future use.
What the Philippines Department of Agriculture (Agricultural Training Institute) say about the Malunggay:
Malunggay: The miracle vegetable
Mon, 10/26/2009 – 1:05pm by repost
By Nenita C. Planco, Agriculture magazine (10.2009)
Malunggay reportedly prevents 300 diseases, hence it is dubbed as "the miracle vegetable" and the "wonder tree."
Low in fats and carbohydrates, malunggay leaves are used to prevent anemia as these are rich in iron and vitamin B, and osteoporosis as these contain high amount of calcium.
The leaves also contain fiber, which is good against constipation, formation of gallstones and colon cancer. These have potassium, too that aids in managing blood pressure and is good for the nervous system.
Moreover, the leaves are rich in protein, which is good for bodybuilding and repair of tissues, plus vitamin A, which is good for the eyes, skin and heart.
Malunggay leaves also help strengthen the immune system due to its high vitamin C content. This helps the body fight scurvy and infectious diseases such as coughs, colds and flu.
According to studies, 3 tablespoons of powdered malunggay leaves contain 27 percent vitamin A and 22 percent vitamin C, which is equivalent to 7 oranges. It has 42 percent protein, 71 percent iron and 125 percent calcium equivalent to 4 glasses of milk. Its potassium content, meanwhile, is tantamount to 3 bananas. Malunggay leaves are slso three times more nutritious than spinach, and have four times more beta-carotene.
No doubt that malunggay is one of the world's highly nutritious vegetables. In fact, since the time immemorial up to this day, the leaves are used to treat fresh cuts and wounds.
Malunggay leaves were regarded as the poor man's vegetable, and this was especially true in the Visayas where malunggay trees were common in sight, hence leaves can be had by just asking.
The leaves are so easy to prepare. Since these are free from bacteria which are commonly found in vegetables growing close to the ground, leaves are dropped into a pot of boiling water even without washing.
Malunggay tree is also regarded as the lazy man's plant for it doesn't have to be cultivated and fertilized regularly. It thrives well in sandy loam soil provided it is exposed to sunlight. It bears leaves and flowers whole year round.
However, when its branches are already tall, these have to be pruned for new leaves to sprout. But if pods are needed, then the branches are left to bear fruits and pods. Pruning can be done after the pods are harvested.
It is best to plant malunggay tree during the rainy season. One can either sow its seeds or plant branches. But many prefer to plant the branch as it grows fast. It just takes three to four months.
Moringa (Malungay) leaves compared to common foods
Values per 100gm. edible portion

| Nutrient | Moringa Leaves | Other Foods |
| --- | --- | --- |
| Vitamin A | 6780 mcg | Carrots: 1890 mcg |
| Vitamin C | 220 mg | Oranges: 30 mg |
| Calcium | 440 mg | Cow's milk: 120 mg |
| Potassium | 259 mg | Bananas: 88 mg |
| Protein | 6.7 gm | Cow's milk: 3.2 gm |
The wise man says:
June 24, 2023
If you are working on a project with another individual and you received a message that is contrary to your objective, before you attack or ask why, simply ask what the message is about giving the other person a chance to explain. This is prudence.